Week 31, what can be considered Summer's peaktime, normally being very calm in terms of record releases, feels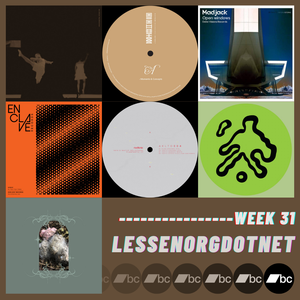 like another earthquake on Bandcamp. 

We will introduce the week with another release from Sferic, coming from Space Afrika, of which we selected Version 2.
Ryuichi Sakamoto-esque piano chords, not more, not less space that we got used to after listening to last week's Record Of The Week for aproximately 629 times, and again the magic feeling of discovering with a flashlight, the sketches and curves of an unknown land, or a new dimension.

We'll then move on to the warm sound of Sistrum, where the legendary Patrice Scott will take care of the comfort we need for our eardrum and our heart. The idea of Freedom though causing a lot of nonsense at the moment, therefore hearing it spoken from the language of music lets everyone feel its message rather then spread it out the wrong way.
Will never get enough of that deep sound. Will you?

Madjack now, for this week's second serving of Deep. Wasn't on purpose, simply just came to our ears. Our hands kinda let themselves be guided by the sound of the mermaids. So here it is us discovering an artist which we didn't know yet. Just browsing around on our social media that just suddenly got more interesting when people started to talk more about music, less about the rest. A great piece of ageless Deep House / Deeptech

Enclave gets in now, to keep the warmth and get the head a little higher with those super interestingly treated rich vocals, that got us think a lot about Round One somehow. A fresh breeze blowing on to your face on a hot, humid summer day. Not yet pissing rain, just a little breeze, with a bouncy fat house rhythm. 
That one was on the way to be record of the week, but unfortunately could not find it in a physical record store online, or at least one that doesn't point you with a finger when you pick a record and have about 150 euros worth of other record in your hands that you would like to give them. Whatever, I got my copy still. And Audionik's release is way worth the hassle. On this release, Steve O Sullivan is here again for another fantastic remix duty of a track from Yaya & Nacho Bolognani. Thanks to DBH Distribution, this is now also made available on digital format for those who would rather save their back pain for lifting beer kegs up to the lake. Do we need to say anything about the power of Steve's remix? We certainly need to mention the extreme quality of the entire EP. Not one track to hesitate on. Something you'll keep on your USB for a loooooooooooong time !

Welcome back friends of the Green Goddess ! Chaos In The Cbd is back with us riding the waves of their signature sound. A little less dub, a little more House and even a tiny bit heavier then that, but still mental and repetitive as you wish something to be. Hypnosis develops as the needle speaks the groove, David Alvarado is definitely not too far from this, and we're not the ones who will complain about it. Another masterpiece, another strike.

And as it is fairly traditional here, let's change subject radically and abruptly. Just for the sake of letting good music express itself as it wants to. West Minerals ltd's Bandcamp made a home for Ben Bondy's Glans Intercum, of which we selected this piece of gentle and slightly organized mayhem. If you're into Deep atmosphere meeting the sound of screaming machines, you're at the right spot. A heavy rhythmic experiment.

That's it for the week. And sorry for blowing up about record stores being an absolute load of dicks in Berlin, but there has to be a limit to giving money to people being disgustingly anti clients. If you don't like your job, get the hell out of my sight, and make space for Nice people full of good will. Thank you :)
---
LISTEN BLOG - WEEK 31 // BANDCAMP SELECTION
---
---