This week will start with the sound of the Oud majestically played by Sam Shalabi, member of Karkhana from Beirut,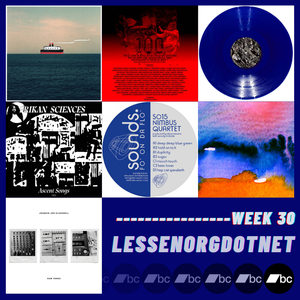 Lebanon. This kind of introduction needs no words to be explained as we witness here, the language of the unspeakable, the words of the soul, introducing an extraordinary album originally self released on Bandcamp as an EP in 2016.

Next, the sound of Steve O'Sullivan & Ben Buitendijk, teaming up to deliver a muscle up track for a compilation where more then 100 artists join forces for a good cause on Planet X Society. 100 Years Of Colombia is destined to support Colombian people protesting peacefully against corruption and unfairness within their government. The funds collected here will be distributed to three different organizations (mostly) : Desaparicion Forzada, Movice, Red Juridica Feminista.
A fantastically written post explains way better the aim of this compilation here : 

https://www.facebook.com/exos101/posts/10165623619555195

Another Ohm & Kvadrant piece of music, remixed by Sound Synthesis. Kontakt spreads again the wings of their powerful and dynamic Dub sound, here with a sharp break beat driven rave tune. Slightly more intense then the original, Sound Synthesis is giving the dream a more concrete aspect, grounding the feet to the rhythm but keeping the head high enough and space to breathe. The three different shades of Skagerak are worth a detour on Kontakt Bandcamp. Wait, actually you can only buy the three of them in there :) 

Afrikan Sciences coming here now with a piece of music sounding like a UFO landing in our heads, and certainly not planning to leave for some time. First reaction : WHAT IS THIS? If there had to be a discipline of Innovative music at the Olympic games, this one would win a gold medal for the next 100 years. Originality, Personality, Rhythm, Melody, Avant Gardisme. All there. A piece to keep for those moments of pleasure on a good system, but please keep your tissues away from the couch.

Dbh's bandcamp striking again with the warm distorted sound of Nimbus Quartet. Deep Deep Blue Green honors the eternal mariage of House Music and Jazz, with a Saxophone loop reminding of early Saint Germain music, with a generous spoon of Whey protein instead of prosecco added to the cocktail. Simple, efficient, class. Music that we never get enough of.

Aaaaaaaaaaaaaaaaaaah! Finally this one is out! Carlo, the one and only Carlo, the one who wrote this track you will not get enough of called Mediterraneo, teams up with Baloo for another banging deep EP that you will find on his own Bandcamp. Same recipe : a catchy but clever hook, a warm sound, space enough, all that turning into another future classic which you will be pleased to add forever to your USB shtick. An all purpose piece of music to play louder then thunderstorms.

To close this selection, I guess it was time to share a few words about the House Legend Joe Claussell. We have here a bouncy minimalistic piece of House Music from the Man behind the most sensual and emotional form of House Music we have been served to in the past 20, or maybe 30 years. This time, it landed in the home for heavy banging sound that is Rekids. The EP is covering a slightly different sound then the one we have been used to from Joe Claussell, having us think that a few months of isolation from the party awakened the spirit of a more driven sound in the mind of our beloved Joe. To be listened to but mostly to be played, in my opinion, as this is where this music will release its full potential, when shared with taping soles and nodding heads.
That's it for this week. See you on Monday :) 
---
LISTEN BLOG - WEEK 30 // BANDCAMP SELECTION
---
---