This week's opener sets the mood for a well-deserved summer that holds in its core, scents of Freedom and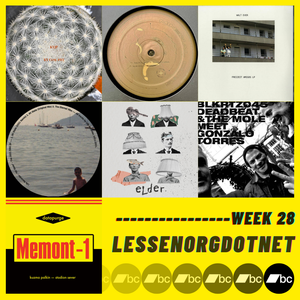 Insouciance. KYJP's City Op is the one track to listen if your goal is to start the week with your feet digging imaginary sand while being washed by the constant movement of the waves. A fantastic representation of the best version of Balearic Music.

We're now moving to one of the bangers of the week with Phil Evans. Not that much of a new track here, but rather an eternal classic somehow having me think of Patrick Specke's Antwoman (I know, brain does crazy associations not necessarily making sense sometimes). 50's Slim is a very simple, super efficient piece of minimalistic House Music that we found researching down Pager Records's releases last week during one of the listening sessions, not to say we're hiding most of the enthusiasm to play this gem that feels like it didn't yet express itself to its full potential even though it has been available for a few years. Some bang outta that !
Kalahari Oystercult back in our selection this week again with their signature old school inspired sound that will remind you why you fell in love with Electronic Music at first place. Nuw Idol is here serving a track full of resonance, natural dynamics and mesmerizing sounds for you to get lost in the music, and prepare to rave in the next few days if not done already. Restore is deserving its name like nothing else in this selection, endorsing the role of fire starter for your long-awaited reset which you have been waiting for, backed up by intense groove and a fairly surprising break to make the crowd scream from the guts, recharging the entire energy of the track in the space of a few seconds. One that you'll play for the next few decades.

After sitting on the throne as Record Of The Week , Life Notes comes back with another heavy groove for your heart to melt. A couple of resonating arps, a pad that changes into a deep chord progression will be your best friends listening along to 90 State (2021 Remix). After discovering this label on the shelves of Marseille's Extend and Play Record Store, we could not simply just stop there and not share more of the gems you will be able to find on their Bandcamp. Pure deepness served with class that needs to be known more then it is right now.
Now time for madness. Time for the world to unleash its monsters, warlocks and witches, put on the dancing shoes and get ready for a ride. Time for Music On Location Records to release an album of which the personality is beyond the limits of imagination that our world has settled for us to be safe and sound in the past couple of years. The sound of the locked down creative souls in search for an exit to a restrictive reality, the sound of a bunch of genuine brains spinning round and round at lightning speed in their lovely skulls. An album that will stand the test of time with class, vice, and flippancy until its subliminal message is engraved in your mind until the end of time.

Rhythm master Deadbeat is back here, but did he even leave our music player? Surely not. It all starts with a lullaby for a night of september when temperature is around 19 degrees, keeps going with Deep Electronic Jazz emulations, of course swings by the signature Dub sound that this gentleman has been distilling over the years, then rolls over the darkness, and finally presents us that 4/4 that inevitably got us conquered and hooked to the bone. Probably one of our favorite of his latest works.

And finally a heavy piece of Dub from Kulma Palkin. I've bearly got words for this one as the infinity of its sound got me speachless. Makes me think a lot of Priori's style of Dub, fast, heavy, spooky, innovative, forward thinking and incredibly dance oriented. An idea of minimalism that is here to speak its message for as long as record players will exist.

See you next week

Love

Antho.
---
LISTEN BLOG - WEEK 28 // BANDCAMP SELECTION
---