This week, we'll start off with a Detroit-based duo serving to us an entire album dedicated to a vision of Ambient music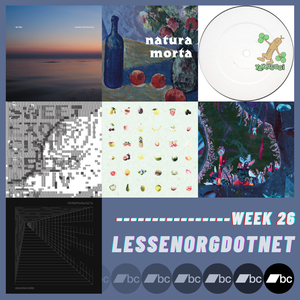 that to our ears, is as close as you can get to music for images made by an orchestra. Think about Steve Reich stuck in a loop and Brian Eno slapping him in the face to try to wake him up, all of that happening in a pond surrounded by flamingos. How the hell did they get there? Do I look like I know ?

I'm finally getting my shoes dry after that long walk in the pond, whatever happens to Steve and Brian is left to the mercy of these pink fellas. The sun is coming down and love is in the air, slightly warming up the temperature, just enough for you not to want to come home yet, just enough for you to feel overwhelmed by a sense of beauty so powerful you'd throw up on your shoes, too bad they just dried. The Music from Sven Wunder has an air of the finest Italian 70's music, Exotica, and the class of a Big Band.

Let's now wake the fuck up please and get back to the Rhythm with Stones Taro presenting Yakusugi EP. This one on the preview is an ode to the new school of Drum & Bass, or am I totally talking shit ? Whatever. The genre never really left those who really felt it to the bone, and for sure Stones, Taro is here to certify this statement with music that is as entertaining as imaginative and forward-thinking.

We were aware for a few weeks (for those subscribed to his Bandcamp at least), that the Man Audio Werner had another one of these albums under the elbow for us to bite the pandemic dust once and for all. We selected the rhythm madness of "Pause", but that is not quite where this album stops in fairness. Asmr comes back for you to showcase the usual groove we find in Andy's music, backed up by a heavy Jeff Mills-ish atmosphere that will make you question your entire existence. More energy is called up with Harz, bringing back the simplicity and repetition we have been witnessing with the man, this time with a different kind of push. Pandemic and 27yg are here to represent the sound of Audio Werner, while Wahltag kicks the gas pedal with both feet for the spaceship to certainly never leave orbit for the rest of the year.

Now let's go back in time with an old Warp release by Sweet Exorcist. One-track and all of its declinations to form the exploration of a piece of music, through the form of an Album. The kind of album that will bring the infinity of a dilemma starting with "which one am I gonna play?". This is how Warp has marked the spirits. With personality, simplicity, and a futuristic sound that still feels brand new decades after its release. A must-have classic.

You know where you are? You're in the Jungle baby. And if I keep going like that, I'll finish like Axl so let's just make the joke as short as possible. Dancing With Cicadas succeeds where many fail. Maintaining interest in the field of Electronic Music with percussion is a hard task given the amount of boring shit there is when in this topic. 
Cafe De La Jungle here presents an interesting and evolutive groove made of sound design, pads, and samples, carefully organized to remind you of early DJ Sprinkles stuff, keeping the groove, but lengthening the strides further up the path of exploration. Mission is more than accomplished.
And last but not least, our great memorable friend Heavenchord, coming back on Cold Tear with "Primal Reality".
Lord I'd love to find the words to describe the music coming out of my speakers once again.
Below the surface of usual thoughts lay the mind of Deep, the thoughts of truth.

That's all for this week. No thoughts, as my head, stomach, feet and skin are still recovering from Club Der Visionaere on Sunday.

Much love!
---
LISTEN BLOG - WEEK 26 // BANDCAMP SELECTION
---
---