Week 35 starts off with who we consider being one of the new kings of Dub. His sound has been spoken of several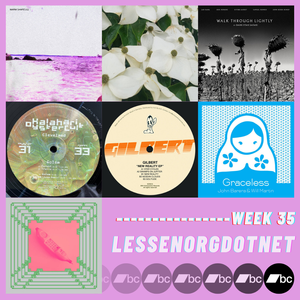 times here and he has as well been a generous supporter of our works. You won't mistake the sound of Schulz Audio for nothing else but the purest and deepest interpretation of Dub. We can now recognize in between millions of other songs the distinctive personality of his sound and the pleasant repetition going along every single one of his tracks, throwing to the world waves of highly intellectual simplicity matching with a warm sound that forever will set the listener into such a comfortable position that life anytime, feels like a dream. This piece is no different then the rest of what he did, and we could not go without supporting it.

Next comes Davis Galvin, with more of an impactful type of sound. Deep, yes, but with a level of intensity that can only be matched by the originality of the music being served. Inganus goes somewhere in between Karizma, and some more twisted deep works we would find a few years ago on labels such as Dial. It is heavy, carries a world of different influences with it on the road, and you'll be surprised to witness the growing interest in your mind when your ears are set to it.

Now time to get lost a little, with the sound of a wonderful team composed of Jan Bang, Erik Honoré, Eivind Aarset, Samuel Rohrer, and John Derek Bishop, being released on Arjuna Music's Bandcamp which we also spoken of a couple of times in here. Desert sound being deprived of it's omnipresent guitars, is the first idea I would have of this album when first listening to it. I might be wrong to say I could imagine Mark Lanegan listening to this but after all, am I not here to talk shit about a bunch of new music I'm dying for? Here again, lots of different influences melt together to give birth to something unusual to drive your interest brain cells bollocks and make you feel your existence on the planet means probably something else then getting in the train and working for that stupid company. Music to drive your thoughts.

Little bit of a twist for your hips now, and a big bowl of fresh air for your mind at the same time. Gilbert bringing in Star Cycles, melting genres as well here (that might be the leit motive this week, but this was as always quite unintentional), following the path designed by this fantastic chord progression, backed up by very simple yet extremely refreshing melodic elements coming along, as good friends would when a box of good beers have accidentally landed in your living room. Party time before we leave for the week ! The sounds like a happy last track of the set.

Kalahari Oyster Cult is inviting itself once again in our selection, with their distinctive sound and their mind fucking atmospheres. A track for fire cracking moments in which you need to set a question mark, just for the sake of answering it along a set. As a scientific experiment starts with a hypothesis, a DJ set may sometimes want to calm down the excitment built up by the music before by simply questioning. Chocolate, or Vanilla? Vodka or Mezcal? The calm before the storm could also explain pretty well the feelings travelling through your mind when listening to that. After all, you're the one to pull the trigger or not. From there, anything can happen.

John Barera on Dolly. Just that, made us feel like selecting this without even knowing what was in there. Some of these releases you don't even want to listen to them before trying to fit them into your extended message to the crowd, to better surprise yourself. We are here served with Patience, a greatly achieved piece of classic Deep House which we need way more of. The team Barera / Will Martin majestically paid tribute but not only as they bring along some sore of surprising brightness with these strings shining like the sun's last minutes of the day on the beach. What an idiotic deja vu Anthony... Ok that could and would also happen if we were allowed to rave all the time in Tempelhofer Feld but it doesn't that ofter. This is 2021 soul music. Here to warm up your heart, or cool you down from a stressful day. An all purpose adaptogen of Electronic Music that you would rather have in your bag, then left at the store.

And now ladies and gents, let me close this week with the biggest facepalm of the week : Baaz's new album on his beloved Office Recordings imprint. To be honest, didn't know up until now which one to select of these 11 tracks as many of them were competing really close. The album is nothing else but the surprising and dynamic sound we are used to, taking a different shape along the album. Alley is as powerful as deep, as dynamic as inventive and still reflect what we come for when knocking at the Office door for so many years. Simplicity and class demonstrated to the mass and to be honest, I so want you to listen to the entire album that I will not say anything else about it in here. I'm not gonna lie, I'm also fairly fucking tired and feeling like my fingers are gonna drop or either my hand is gonna end up soaking the computer, and I wanna go to bed.

Come on guys, get the fuck out of here, I wanna wrap myself up into bed and dream about all these beauties for the rest of the night

Love

Antho.
 
---
LISTEN BLOG - WEEK 35 // BANDCAMP SELECTION
---
---