Still trying to wake up from the 10 years of Rawax celebration which happened at Renate, I thought it would be legit to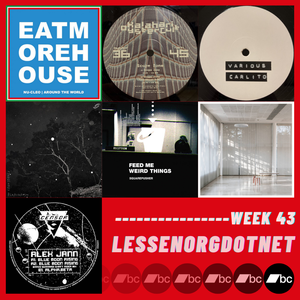 start on another one of Robert's labels, of which the track selected will shine bright sunlight over the days of autumn.
Nu Cleo coming to your ears to paint the soothing picture of This Side Of Heaven. Released on wax last September on Eat More House, is distilling the fine juice of a modern piece tainted with the taste of our beloved vintage drum machines. These chords will melt your heart like ice in the sun, help you find beauty in your everyday life or simply blow a shot of fresh air into your well-thought-of, intense, and emotional DJ set.

Now Kalahari Oyster Cult, back on the camp to lead with their heavy House sound. Liquid Earth presents his Scope Zone as the world is slowly but surely getting back to their dancing habits, discovering the joys of being together, share a drink, a smoke, or a hug (to start with), thanks to the most controversial liquid ever injected int he history of medical science. The real medicine though is the energy coming out of this piece and the gentle exchange between tension and release that we are witnessing in it. If you like to start off with vocals, this could be a clever way to introduce yourself to your well-prepared dancing crowd, in order to aim to be kicked out of the club for playing after the closing time.
We'll come back to the sunny side of the street with our favorite Mediterraneo en el mundo : este señor Carlo.
Some of us out there travel between genres (or wander in my case), and some of us have one sound covering several shades of it through time, therefore mastering the art of it. Carlo, as we said before, is part of the second gang. Though he graduated a PhD in House Music science and application, he never ceases to amaze everyone and every thing from record players to usb sticks, with the power of the swing that drives his House signature sound and the level of creativity he exposes continuously. It's a happy jazz piece we have here reminding me slightly of Drop Music back in the days, bringing a little more happiness to our week that is starting to look like a reunion of Winnie the Poo and his friends if you read my words. Come one honey...
 
Appareltronic, keeps the sun shining (for fucks sake not again that image), with the soulful yet fairly twisted sound of Counterfly. A track that instantly got me thinking of the golden days of Dimlite on Sonar Kollektiv, I know it's bad to compare, but as I do it all the time I might as well dig the hole a little deeper (at least I can hide in there).
Groove, soul, and a bright dynamic energy coming out from this EP. 
Getting ready for a future Radio show with one man that made me dream and keeps making me dream, as a friend as well as through his artistic career, I had the idea to go back in time and experience again the kind of impact Squarepusher has had on Electronic Music. The sound of that sampler, yes, the mind of a killer musician? Even more accurate in terms of describing what comes into your ears. Jazz on steroids, drums electrified, making the perfect soundtrack for almost every moment of our life, except if you're trying to get kinky with your one night stand, and suddenly you put that on while you wiggle the tail, you might make someone run away and sleep like a bike on its stand. Careful now with that one.
How did I miss this one? Don't ask. I got to the point of accepting to miss on an incredible amount of things even though spending as much time as possible listening to new stuff. Thankfully, my good friend Vincent Telandro is here to share with me an amazing piece I never heard of before.
Liquid sound, over the top musical resonant stabs and shots, cinematic-alike pad, playing with space, FX, repetition and mutes up to the maximum of what is humanly possible. This track takes you on a journey through the world of abstract deepness with personality, groove and a legendary sound that is here to stay, wether physically or digitally.
And now, the man we had last week in the show, who genuinely came with this one for my collection : Philipp Priebe.
If the label makes you strongly think of another legendary deep label, keep that idea in mind as you could use it as a guide for the rest of the story.
A Pad leading a piece like a convoy of purveyors of the words of truth, slowly disappearing in a humble move to make space for an element that represents The Point of the entire group. That's some construction here. Kept in simplicity and with a solid sound banging through the speakers. A twisted dream atmosphere gets spread out over the length, a picture that only the eyes of the heart can see. This was the introduction to the label, and we sincerely hope it is only the very beginning of it as the man behind it has a lot to say.

That's it for the week! 

Much love! See you next monday.
---
LISTEN BLOG - WEEK 43 // BANDCAMP SELECTION
---
---