Week 42 starts of with the rough driving sense of Dub that comes out of this Parallel 9 release out on Delsin. The same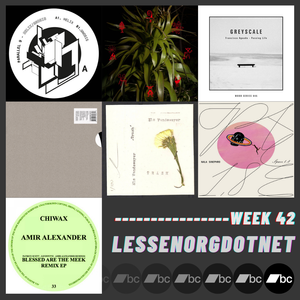 sound of which we cannot say if it is futuristic, old school, or just simply and strictly unique; of which none of the people listening to Electronic Music will ever feel like having enough of. Does that sound remind you of someone? Probably because Steve Rachmad is behind this alias. This re-issue originally released in 1995 is nothing else but a lesson of sharp Dubtechno.

Speaking of Dubtechno, Greyscale is here with another release by the magnificently talented Francisco Aguado. A groove that sticks to your mind, your feet, and probably will stick to your soul when you go say hello to Lee Scratch Perry in Heaven. Bring a lighter and rolling paper, they might need one up there. Matter is a piece of classic Dubtechno sounding as bright as the clear blue sky and is driven by a monster drum loop genuinely keeping listeners and dancers trapped into a pleasurable and long-lasting experience. Dubtechno, yes, but not strictly limited to one of its faces. This EP covers a wide enough spectrum of the genre, and will definitely hit our weekly radio show.

This one was supposed to be shared first, but we thought it would give us the opportunity to pause and play again.
Just a lovely piece served by Red On, displaying a one-of-a-kind universe close to Trip Hop, accentuating sometimes a somehow dub-ish inspiration, contrasted by angel-like vocals of Jana Sotzko. Little more pressure on the drums and we could have almost felt a stoner influence in this. A piece that moves the listener around the room.

Ladies and gents Attention! One of the greatest pair of generals Electronic Music has been able to count in its ranks: Autechre. Now this, if you want to study the complexity that can be involved in Electronic Music, is a scholarly piece. 
The days of UK's legendary experimental music are far from being over as warp re-issues a lot of these classic albums and EPs one by one for the joy of listeners who may feel like they were born at the wrong time, or simply for those who wish to get inspired by the origins of the sound we dance to. A very technical yet hyper-emotional album.

We'll dig a little deeper in the experimental field, with Ediciones Capablanca releasing a new cassette, also made available on Bandcamp for those who, like me, have lost their walkman by the beach in summer 1999.
This twisted piece of Els Vandeweyer reflects the creativity of someone who is said to be "overwhelmed by Guitar Overtones". Playing with slides, spaciousness, repetition and of course, anything that can make a sound, a much deeper journey is here presented compared to the rest of the selection. The cherry on this week's cake.

Recently released on Vinyl, Amir Alexander's Rawax release gets the Bandcamp treatment, with Patrice Scott (yes, again!) giving it the deep processing. Something to become a classic very soon with a rhodes line that penetrates every cell of your body and mind, backed up of course by a serious yet simple rhythm section to stay in the groove. Here again, an almost religious experience is served, the moment when House Music flirts with Gospel is always a time we cherish, especially when played in the darkness of a club where anything can happen. This is science of the heart, medicine for the soul.
Mala Sinephro will close down this week with absolute class. While listening to the weekly arrivals in the mailbox, going through an album released recently, we found this piece which instantly caught our attention with the sound of these brushes and bright piano. A jazz piece to listen to on your day off when you wake up, as cliché as that sounds, to make you feel like being alive in this world is such a wonderful thing, right before you fucking hit your toe on a piece of furniture and realise your son thought Legos were the new form of carpet we should adopt in the house. Don't go to the garden yet, you're not ready to have a pigeon shit in your coffee.

That's it for the week

See you very soon.
---
LISTEN BLOG - WEEK 42 // BANDCAMP SELECTION
---
---