Week Pastis minus 10 (only French will understand), taking off with SWAG, one of my personal favorite House projects.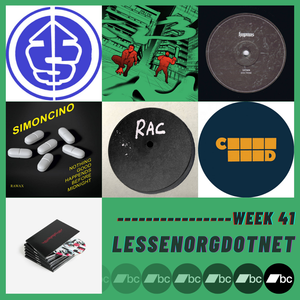 It's raw, it's deep, it's ultra-effective, sometimes really twisted. It smells like Soul, especially this one, part of a huge compilation of archived "odds and ends". Unbelievably creative. I could write for days about this piece and all of the others which are still carefully collected by people over the vinyl community. Who is behind this? Seriously, who cares. As long as your blood rushes through your veins when you put the needle on, it's all that matters, and from that perspective, the job is fairly done.

Time to go over the Atlantic ocean, or at least let our imagination do so with this sharp funk served with sweat by Berlin's CYRK. A rich, musical, and dynamic piece of something in between breakbeat and... whatever else that could be. A lovely resonating bass will come and go like a host presents and then fucks off. Unfortunately for you, you will not be able to buy this one only, and you'll have to get the entire album for it. If you want to have the cherry, you gotta buy the cake. But actually, who would say no to a slice ?

Now let's fly back to the thoughtful fields of repetitive Dub Techno. Simply a mad piece, like we're used to getting from Hypnus in general. The track is wearing its name so well, you can clearly picture yourself spending a moment of collective awareness enjoying the warmth of a bonfire and maybe a dance. A moment of true enlightenment is given to you simply by a rhythm section backed up with a heavy atmosphere. Simplicity is a hard task to achieve in Music, and Skymn is showcasing here an understanding of the importance of repetition when you want to give letters of nobility to a piece that deserves all your attention.

RAWAAAAAAAAAAAAAAAAAAAAAAAAAAAAAAAAAAAAAAAAAAAAX !!!!!! Again! And again and again please give me more ! After celebrating their 10th anniversary at Renate with them and being still buzzing as I am, had to throw in a little more about them. This time, Simoncino (which we mentioned in the selection of music in the 10 years of Rawax article), which we spoke of here for one of his releases on Skylax, is back with a warm and rich deep track, here collaborating with the great Luke Hess to present a great mixture of Italiano-Detroit power. If the years behind have made you lose the definition of Deep, listening to this may give you back an idea of what it is.

We'll get that pitch up the way a bit to wake up from... not being asleep at all during this heavily danceable selection.
A raving piece. Simple and efficient, as we like to share in here. And definitely still not getting enough of these resonating filters and weird sweeps. Weird, yes, but just enough. We're not playing the hipster game here of weirdness for weirdness. A world of its own gets built up through the length HUB (ALT. DUB) encouraging our steps to the next party and helping us to better enjoy the week, or not. Know what? That's just an awesome piece. Anything else I'll say is talking shit over it.

Martinez! The last name I almost got, is here reminding me of my very first minimal experiences at the beginning of collecting records. A sound you recognize through millions, and a swing like none in this world. Always cooking in the pot a high level of twistedness with a pinch of deep. Playing this is like playing with time as this sort of music is (fortunately enough) not done anymore by many (fortunately enough because copying this was for years one of the greatest disasters of Electronic Music). Abstract funk, playing with your mind with class and a sharp attitude. A piece to handle with care.

And finally to close this week, one of our favorite (one to open, one to close) experimental-ish label : Youth. All them pieces we got and played from them leave the mark of an unequaled identity. This one here feels like we are going to a retreat in the deepest parts of ourselves to find out the most valuable treasures in the world. Close to a religious experience due to the intensity of the moment spent having our ears on it. Speechless. Expect one of the radio shows to start with this one as we haven't found a more powerful statement for that purpose yet.

That's all folks

See you next week.
---
LISTEN BLOG - WEEK 41 // BANDCAMP SELECTION
---
---