We'll start with a talented man who we had the pleasure to host last week for a Bandcamp selection : Eren Eren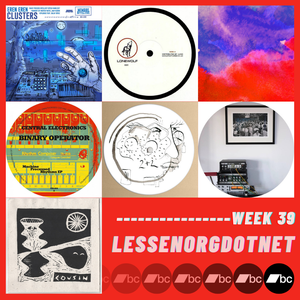 Head of Mémoire Affective, he has been driving the label designing an identity rooted in the deep sound of legendary artists like Rick Wade, inexhaustibly moving and expanding forward with an idea of music that defines itself with no other word then Infinity. His album goes even deeper, with a major analog wet taste and a variety of influences dripping from every second of music that will come to your ears.

After all that wet sound, we'll go dry up our soaked clothes (@kev : I'LL BE SOOOOOOOOOOOOOAKED?) with the direct sound of Eya Records. Simple and effective, yet containing enough disturbing sounds, textures and tonal work to please your brain begging to get banged properly. The pioneer works of Wolfgang Voigt are to my taste well mentioned in this idea of minimalism, which finds itself comfortable in keeping a limited amount of elements of which the sound makes them essential to the point they don't need anything else to shine. Raw power? Real power.

Carlo now, our friend Master of House Music, is welcoming Nephews, a Berlin-Beirut collaborative project, on his home imprint Aterral. Expect House Music (that's when you'll say "Oh Really?" if you're from the UK). Like, REAL House Music. Here again developping a sound which we have been listening to for hours, in a way that makes it so special as we're used to on Aterral. A very clever way to play with the rhythmic parts, a super sweet cluster-ish melody, and a banging bassline for your feet, and for your guts. Harrison BDP on the remix job a little further up, but our choice rather went for Oasis.

Now, if just like me, you haven't pulled out your breakdance moves for a looooog time, and dream of a specific soundtrack to work on your wingman (not the one that helped you desperately get a shag last weekend no), we're here for you again. Behind this name is a man who you also saw in our selection of Bandcamp releases : Matthias Schildger, also known as Matt Star. Another superb EP keeping alive the sound of people having the ability to express themselves free from million dollar studios. The sound of creative freedom, the real taste of 80's Underground given an extra life with compositions that sit well in between paying tribute while adding something extra. It is impossible to stay still when that comes through your ears. A happy dancefloor killer.

Well Street, of which we have been fans for some time now, is back with another twisted EP as we speak. Robert Fleck perpetuates the idea of Rhythm Madness distilled over the last few months with another very musical piece that will redefine your sense of Rhythm. Sharp beats mostly, that only needed an extra pad and a few vocal stabs for it to stand on the podium high enough to be noticed. The entire EP is as we're used to, expanding and experimenting slightly, but with a sense of control that makes it extremely comfortable to listen to. One more for your cart.

One of the coolest guys to see at a party, especially when he keeps dragging to you people that speak French. The legend Ian Pooley has been happy enough to recently set himself a little closer to nature, and is now up to present to us some of his recent works. This one features the classic Pooley sound, hands in the air, raw as concrete thrown out of a trowel down the floor of a building site, but lord that shit is powerful. A soft hit, a classic that feels brand new, but wait, it actually is ! We're also aware of the existence of a Studio B and from seeing the pictures, we then cannot wait to listen to what comes out of it in the next moments.

We'll finish it up sitting by the beach, as I just trimmed my moustache, i'd say it's perfect timing. A neo-balearic rhythmic piece named Drum Talk // Toad ("which toad are you exactly talking about?" is the question you may ask yourself right now). Not the classic boring balearic beat you're used to (but still, a moustache fits the landscape, though you can throw away your piña colada please), with more of an abstract taste, something different melting down various influences as we normally like it here.

That's it, i'm off! See you next week 


Love

Antho.
 
---
LISTEN BLOG - WEEK 39 // BANDCAMP SELECTION
---
---