Dust as we are, the immortal spirit grows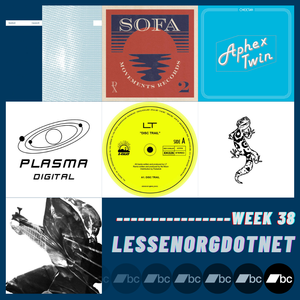 Like harmony in music; there is a dark  
Inscrutable workmanship that reconciles  
Discordant elements, makes them cling together  
In one Society  
William Wordworth, found in Anthony Storr's Solitude book.  
Same as next Thursday's Lineout Radio show starts, this week will be initiated through the sound of Komet, released on 12kmusic's Bandcamp. Minimalism flirting with the boundaries of experimental music, for us to release ourselves to waves that feel like a sensory deprivation tank to our ears. As we lose touch with the ground, the reality as we know it, we make space for a new form of perception of everything that composes our existence on this planet. This entire album, if listened through from beginning to end, feels like the real big reset that is much needed from time to time in order to find ourselves and feel ourselves, alive again.  
Ground 16 again this week, coming back heavier with the deep sound of Never Mentioned Love, which will be released both Vinyl and Digital on a various artist compilation down by Sofa Movements Records. There are so many direct influences we could guess in this piece of music that I would rather shut the fuck up and let it speak for itself. Sounding as fat and timeless as anything you had sticking to your crate or USB for the past 10 years, this one is definitely one of the top highlights of the release. Seems like we're here to spend some more time on any Bandcamp release mentioning the name of this legend.  
Watchout for this one, as the second release, is about to hit the stores loud and clear. Sharp rhythm and an everlasting feeling distilled by the melodic section, well supported by the sound of a deep pad. One for the dancefloor yes, but one for the heart to get leverage also. A powerful deep piece of House Music melting, here again, all influences we wish to see coming together in a track. See you in here for 02 Hit Hz.  
How come we never shared anything from Aphex Twin here? Maybe our love for the legend got lost in the ocean of newcomers, or maybe I was just pissed off after someone being part of the Underground community selling concert tickets for 75 bucks. Anyhow anyway, the signature well-acclaimed sound of the man is here again appearing like your nose appears in the middle of your face, slightly painfully recovering after you heard the first few seconds of this track and facepalmed yourself like a madman. Deep, Raw, questioning, answering, expressing the key ideas of a form of Electronic Music that does not agress with the codes of House and Techno other then the 4/4 beat. It's a hate / love relationship, but one that's made to last for some more decades. 
We'll keep it raw but a little more crowded with a brand new release which is up for preorder by the time we write this, coming from LT and released on X-Kalay, to be released digitally and on wax. A powerful dream. A dream on steroids should I say. Crossfading between breakbeat and this Neo Old School house vibe we witness since a few. years (kick me in the balls for mentioning this stupid classification). This break is about to give a heart attack to thousands of listeners for sure. Exactly as long as I like them. If you're after a track to put tension and keep the head up high at the same time, you just got served, with the remix of No Moon. 
Still as resonant, but slightly more spacious, Hearthug is back to haunt your night and days with the sound of this Acid hook... and to remind you of the Alphabet too. A good friend of mine named Gabriel Belabbas would probably name this track "Bête et méchant". Do not translate that straight to English, as this only a saying designed to expressed in the simplest way (some challenge with French Language), the effectiveness of a piece of music. An absolute banger released on Banoffee Pies Records. 
Afrikan Sciences. This one makes me think of Anthem In 7 from Derrick Hodge. This is next level Jazz Music. One that only a soul touching another dimension of feelings can express. We were hit recently by another release from Afrikan Sciences and it feels like this is nowhere near the end. This release comes closer to Jazz, but not only. Or maybe is it the real spirit of Jazz to twist things up to give them a new face, stirring the emotions out of our hearts, like we stirr the essence of life in our everyday existence. Another masterpiece for the collectors out there.

Big week! See you next monday.

Love

Antho.
---
LISTEN BLOG - WEEK 38 // BANDCAMP SELECTION
---
---