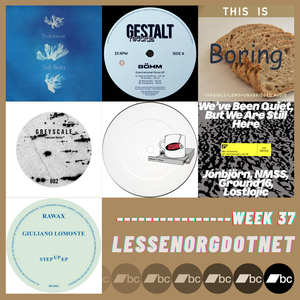 Week 37 takes off as leaves fall from the trees, with the mesmerizing modulating ambient sound of Endurance.
Shapes shift, the light shines all along through different points of focus to which the creator of this piece directs the listener. Is it traveling without moving, or is the journey going so fast it feels like we are static? You may or may not answer this question by listening to the entire track.

Böhm will take care of providing a little more rhythm to our exploration, with a fresh release on Gestalt Records designed as heavy as deep. Sitting in between 90's rave and dub, a perfect piece to start a journey between the comfort of the combo Bass / Pad and the resonating stabs all backed up and on point to these unforgettable drum samples.

Fast forward to th future now, with Atom Tm providing as always the highest level of inventiveness and originality, melting an idea of pop music infused in the 80's crushed by the power of one of the most creative and prolific music producers we have been able to witness. This is everything but boring. A mind opener, one that you should have on a magnet stuck on your fridge next to your banana beer opener. A way to expect and experience Electronic Music through the lens of a genius. A music lesson.

The man is back ! Back again, on the mothership that Greyscale is, and in outstanding company. This time the ever expanding deepness of the Ambient sound was swapped for an infinite groove. Heavenchord showcasing a more dancefloor friendly type of sound to which we also have been used to, ruling the groove like yer man rides a bycicle.
This one might be still available on wax for those of you who feel itchy on the cdjs.

Cheekymusicgroup's bandcamp switches slightly from their UK Garage sound to provide a release from 4TGANG, with here a track balancing perfectly between everlasting and deep. Slightly lofi, just enough for the sound to have a personality and for these chords not to sound like a Hedkandi mojito (¡olééééé!). A deep piece, is an ageless lady standing there at the bus stop. Everyone may pull out the camera to shoot but not all eyes can capture the right moment.
4TGANG here can be seen as the eye of the tiger, and we may keep this one in our stick for the next decade or so.

The urban, spacious and warm sound of Ground 16 is hitting us again, with a brand new release on a various artist released by Neo Violence, on Bandcamp of course (but probably not only). Dub stabs get grounded (that was an easy one) by a solide groove dripping slowly until reaching maximum power. Hypnosis and stillness meltdown with a warm and comfortable pressure pushing you to the middle of the dancefloor, turning this piece to a perfect fit for the end of the summer.

And now let's release the pressure with Giuliano Lomonte serving his signature looooooooong everlasting sound on the great Rawax imprint. Steady beat underneath a levitating gated instrument section, cemented together by a simple yet devastating bassline. An all purpose piece of beauty we may keep playing for many sets coming on point for reopening of many clubs. If you wish to understand how to make subtil music so danceable this is a good example. Making the head knod does not need much, just a little bit of outstanding talent, and a dedicated label pushing it upfront to your ears. Easy right?

Coming back from holiday this may be a little bit of a short review again. After all, we're only here to listen to music, not to read the bullshit written by a lunatic in the middle of a sleepless night.

See you next week.
---
LISTEN BLOG - WEEK 37 // BANDCAMP SELECTION
---
---