Week 36, Hello September ! Hello Dott. Santafeo ! Great to see this passionate friend doing his thing again on Spclnch,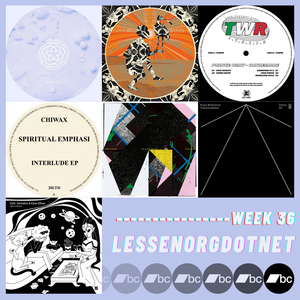 this time besides Kaan Elitok. A dynamic deep dub piece is being presented here with a sharp rhythm and a space tight enough to keep you movin, until you hit the break and you realize you'll spend lunchtime losing touch with gravity.
If you're looking for a rocket launcher that keeps your interest brain cells active and pleased, this is the one to get these days.

Tresor now. The legendary Berlin house that released so many of the ones we hold as legends keeps spreading the words of the spirit of Techno on wax and digital, as for not being able to open its doors at the moment. Huey Mnemonic is here presenting music paying tribute to the days arps were fun to hear. A Paul Woolford-ish piece of music that could have never come form anywhere else : the Motherland that is Detroit to the heart of every Electronic Music enthusiast.
Resonating to the heart of anyone who's soul is still electrifying the body, this release is our sunshine of the week.

Spiritual Emphasi invaded the soundspace of Chiwax to keep the sun shining a little longer before the autumn chills.
The Spirit may get you thinking of a legendary sound that feels familiar, this is because the man behind Spiritual Emphasi is no one else but St. David, who we found recently on an outstanding EP on Skylax in between others.
James Brown would have probably been heavily jealous of the groove expressed in this track, combined to the Hands in the Air feeling it feels like a new hit has been announced. House Music as it always should have sounded.

Casa Voyager now with their fast pace music turning your everyday life to a holiday in Copa Cabana, with Prince Ozay's Volo Magico. Fans of Roy Ayers will love this, actually anybody not digging this stuff should consult a therapist. This is an instantaneous shot of happiness from eardrum straight to the heart. A musical triple warmer ready to set your mood for the remaining days of summer.

Now time for a good friend to rearrange the works of a fantastic Irish band. Neil Flynn got to give his own interpretation of Kʒːlu's Arc of the Rising Sun.  Tommy likes the shpeed here, so yo better tape your shoes to the ground otherwise you might lose touch with the floor. Slightly Dub, slightly Breaks, the Man from Waterford explores a different face of music working through the genuine recordings of an album previously released on Bandcamp of course.

Rockets Audio has released two weeks ago a compilation featuring a plethora of talented artists, of which Redrop is part contributing with a track that goes by the name of Anteambulo. I will not explain the concept, as Google can eventually be your best friend here a couple of clicks away. This one is a tiny bit heavier then what we have seen previously on Rocket Audio's release of Redrop, as well as on RDRP01, paying tribute to the infinity of a very simple House groove rather then to heavier atmospheres. You'll also find Mutlu San, Yes'in, Tolga Fidan, Tommy Vicari jr and a few good heads in there.

And finally to close this week's selection, the infamous Delsin imprint. Still dominating their field with a banging futuristic sound that continues to write the eternal story of the label. Jason Wynters presents a release showcasing an entire orchestra of synthesizers, enough to fill a theatrical scene of beats, sequences, arps and FX designed to take you on a ride to a different dimension.

See you next week ! 

Love

Antho.
---
LISTEN BLOG - WEEK 36 // BANDCAMP SELECTION
---
---