This week will take off with a Bandcamp link that takes you to some of the finest Ambient and Experimental music there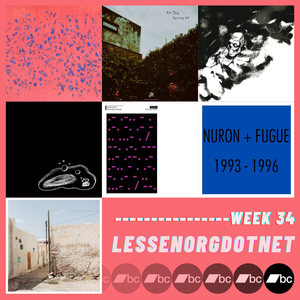 is at the moment : namely Muzan Editions. We have been flooded by an army of releases coming out of this place and it's been quite a hard job picking just one track for this week, but Synapse was the one that was making sense the most as an opener. The spaciousness and the subtlety of this music speaks for itself, but I do recommend you checkout the rest of the releases, as anyway we will cover them in the future.

Keeping almost to the same dominant (do not mistake any knowledge of musical theory here as this is probably the only thing I may know), Ke Thu, which we spoke of a few weeks ago, are coming back with another piece of beauty on their Bandcamp, extending the discovery of the landscape the Detroit boys started to paint, with the same level of mastery in terms of simplicity and class.

Now let's go back to the days when the sound of Rhodes were speaking to the beatmakers that were dressing up the music behind the rhythmic poetry of Hip Hop. Baby Run may sound like Illa J, with a twist of The Streets and a touch of Lofi. Don't get lost in these pretending to be technical or referential details. Just listen, this is all this music deserves. More and more ears to be aware of it, more and more minds to invade.

Following up Ali Berger's organic and resonating deep sound, with Shock. A rich lower leg smokey Deep track that is not missing the swing needed to make the head nod and the hips move. If the repetition does not get you yet, wait a moment for these effects to speak to you and see what you feel. A lovely piece to release a little bit of pressure, or to build some more up to taste. A sweetener or fire cracker? Probably just a mind fucker, for those in need to give it a shpin for a moment.

Hello Nuron ! Long time no see ! We could not be thankful enough for this to be released digitally. Works of Nuron and Fugue which have been praised over the Deep vinyl community for a good reason. The eternal sound of flanging rhythmic elements, FMish synth sounds and watery atmosphere of the 1990s has the heart of all music listeners that tend to feel rather then use the ears to experiment the language of the unspoken that is Music. A Piece you will want to save for special moments, like that cognac of your year of birth. Physical or digital, you gotta get this.

Bookworms's twisted rough sound is back here again, and we couldn't resist at all. Not like we tried hard.
One of the most interesting artists of the Analog / Lofi world these days. Reinventing sound at Sloth speed, yet moving the mountains. Real power. Spaciousness, minimalism, personality are what you're after when pressing play on this piece of music that will come give your brain a little poke.

And to finish up, a Berlin head digitally met on one of Ohm's livestreams. That's the kind of surprises we love to have.
Deep rounded sound groovin comfortably on the sound of a pad, this powerful rhythm is the perfect warmup soundtrack for anything designed to last. Tilman fulfilled the perfect remix job alongside Lifestyles to turn this Stólar 3rd release into success. Thank you Philipp for putting together such a cool EP !

That's it for this week, a little shorter then usual, but I guess last weekend's German / Irish wedding is not fully digested by the belly. After all, you're not here to read me talking shit, but rather listen to these souls expressing themselves.
Don't forget to buy what you love, as there is nobody between you and the artist when you put your hand to the wallet on Bandcamp.

Love

Antho.
---
LISTEN BLOG - WEEK 34 // BANDCAMP SELECTION
---
---