Week 33 starts off with one fresh album released on August 6th by Nokken on Polymath. A fantastically produced break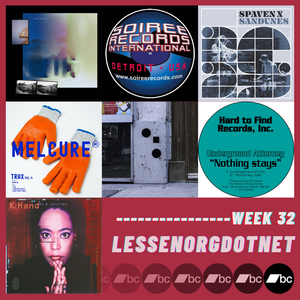 album made of highly banging sharp rhythmic elements and an insane sense of melody organized around a very small number of notes, which enables the music to stay simple yet incredibly complex in the structure. Played this one a couple of weeks ago on Lineout Radio and this is definitely not the last time one of us will have that to be triggered under the cartridge.

And now Soirée Records. What an exceptional collection of Underground House Music you will find in there. True to the bone, deeper then the ocean. The essence of American Electronic Music at its best continues to spread the love, and the words of a Real American dream that we seem to not see often enough unfortunately. All releases in there are sweating the energy of true soul, groove, standing firmly on the foundation of the music that made us dream and still does. Get from them anything you see on wax or digital.

How can I not recall the legendary concert of Cinematic Orchestra in Montreal 2008 for the rest of my life? Rather then the entire band, one man stood out of reach : Richard Spaven. One of the most impressive drumming style I have been able to experience live is back to serve this piece of music that feels like an awaken dream more then all the sunset you could have witnessed for a hundred lifetimes. If you wanna learn about a rhythm that's so smooth that you don't see it knock you out, this is what you go for.

Little more of a steady minimal house groove, not changing the good habits of checking what's going on with Melcure as they keep delivering heavy, deep music destined to use the sole of your shoes until a tissue looks thick compared to it.
Steady rhythm, mesmerizing bassline and hypnotic vocals. Ok, the recipe is not new, but who said we had enough? I never will, especially made out of that level of mastery.

Next one is your one way ticket to the inside world, the endless, everlasting internal journey that all of us have within.
As the sound fx open up the door of your consciousness you comfortably let yourself dive in apnea to a world that exist but of which you don't know much. You let yourself be amazed by every second of the journey with your eyes gazing at the sound, and realize you don't need no holiday when your inner world is so vast. An experiment delivered to you with class by Basic House for Sahko Recordings.
Time for a classic now. After buying 30 tracks in one go from the man last year I started to feel I needed more of Dj Duke's legendary sound. This is the eternal perfect warmup track. A clever and comfy safety net you will keep for yourself to ignite the moment when you want things to start off, or start over again. The warmth, rhythm, groove and personality coming out of this music reminds of of what real House Music is meant to sound like, reminds you of the days when the spirit of Disco was inevitably part of the movement we got into. The sound of a generation of Djs able to make the people come together no matter what.

Now, I could not go around without sharing a track from our beloved First Lady Of Detroit K-Hand. Many times we did here share the love for her unique sound and the strong sense of identity that has been shared through decades of dedicated hard work and passion for Electronic Music. She inspired so many of us, and always will. Your body is gone, but your soul is dancing with us until the end of time no matter how House or Techno will sound like in the future.
You are now resting in peace with Paul, Michael, Michel and so many more and we will keep honoring your spirit in every single one of our steps, in every kick that hits.
Thank you K-Hand for all that you gave. May Blessings come to you and your loved ones.

On this emotional moment we will take off and see you guys next week.
---
LISTEN BLOG - WEEK 33 // BANDCAMP SELECTION
---
---