Week 32 is the one we go back to one of our main focus of the website : ambient, slow grooves and experimental music.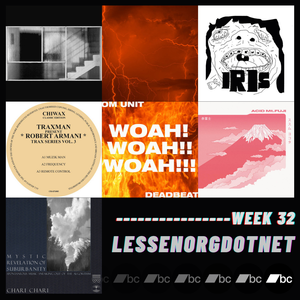 We'll begin with Lawrence, pulling out a fantastic EP on his Home Label that is Dial. 
Dial has always had this solid feeling that gives the listener the sensation of listening to something different. Wether House Music, Techno, Breaks, Ambient, Dub, all of them genre passing through the Dial filter will always feel like part of a very special family. This EP is no different then any Dial release, and must be listened carefully from beginning to end.

Next, comes our beloved Raster. One of the most original forward thinking labels that we have been able to discover in the past few years. Listening to a Raster release, is an exploration by itself, like a holiday trip to an unknown place without moving from your comfy couch, where minimalism meets deep experimentation and an ever growing sense of avant garde filling the space every time the needle touches the record. Novi_sad is taking us here through an imaginary trip around the 5 continents, redesigned and reshaped from the mind of a genius.

If Stairway To Heaven rings the bell of one of the biggest rock bands of all time (or the funniest movie of all time), prepare to be surprised while listening to a blanket of weirdness spreading over your legs to keep you warm at night.
Are the instruments out of tuning? Maybe. Does that participates to the creation of a unique sonic environment to lose your mind into? Yes. Iris (what a beautiful name right?)'s New Stairway To Heaven redefines our idea of music, but wait, don't stop before the insane slow groove of Ribbon Blues catches your heart for a couple of minutes, leaving you hungry for another release (why is this track so short!!!!!).

Time to wake up now with Chiwax acting perfectly its role of alarm clock. The warmth of that distorted kick will catch you from first hit, you know what you're after. And that acid line, this mesmerizing melody will confirm the idea that we are going for a banger. Sorry tomorrow, i'm gonna miss a few of my assignments. Not my fault, blame it on Robert Armani, or blame if on Chiwax to revive the sound of that old classic. A must have, another one yes.

Deadbeat (again), this time backed by Om Unit. Originally released on Panoramabar 06 Part II vinyl compilation, this one gets a remaster, but yet still feels like brand new. The secret of this one is this Jungle break appearing and disappearing from the track, bringing harshness to a rather deep repetitive track. Feelings of Turntablism arise along the listening experience, as well as the impression of being in the middle of two worlds, standing in perfect balance between an absolute banger and a deep breath. A piece for those very special sets.

Hello Midgar, been a while since we came up to yours. This one is raw, heavy, original, and inspiring. The saying "Repetition is the mother of skill" spreading its wings through the sound of an omnipresent 909 tom going all along this track, explaining without words the meaning and power of simplicity. No need for much, just very specifically chosen elements organised to form a groove simple enough to be followed by the taping feet. Another 1994 re-release (didn't make it on purpose I promise). Another lesson from the past, about how to produce long lasting music, and keep the mind interested with few, rather then confusing with lots.

To finish it up with class, this week could not be closed with anything else but something coming from Japan. Anything coming from this legendary Island in terms of music (maybe not anything Ok, pretty sure you guys have your local Robbie Williams and Britney Spears), has a taste of humble perfection.
Here, Esfera de agua, stands, or rather dances between slowbeat and Jungle (yes, again, you know where you are).
A deep smoothie made out of vintage and recent music, remixing the first album in 18 years under the name of Chari Chari, brought to you on Seed And Ground's Bandcamp.
---
LISTEN BLOG - WEEK 32 // BANDCAMP SELECTION
---
---